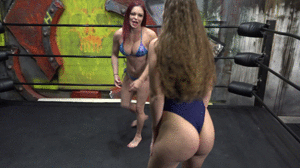 8:31 video
Sarah Brooke vs. Kendra Heart
You're Gonna Kiss My Ass Bitch!
(Ring Women's Singles Wrestling w/Catty Tactics, Lesbian Attacks & Nip Slips, Kiss My Ass Match, Bikinis)
Sarah Brooke isn't sure why Kendra Heart is in the ring with her, but once she finds out she seems to wanna play around more than fight....something Sarah has NO interest in we might add, she challenges her to a Kiss My Ass Match in "You're Gonna Kiss My Ass Bitch"! And it's definitely contentiously fought!
Dressed in a provocative one piece suit that runs in contrast to Sarah's bikini, Kendra's tits fall out quite a bit during this match, giving you and Sarah for that matter an eyeful to say the least! And given her attitude before things started, we're pretty sure this was intentional on her end!
Sarah is undaunted by this however, being tough as nails as you all surely know and able to handle pretty much anything thrown at her. She takes Kendra's advances fairly in stride, even if she's disgusted by them, and carries the fight to her here in what becomes a pretty dirty contest, wanting to teach her a lesson and make her pucker up! Is she successful in that endeavor?
A gritty matchup between two feisty women, with some definite humiliation for the ass-kissing loser!
Attacks:
Ass Grab, Ass Punch, Belly Punches, Boston Crab, Breast Grab, Breast Smothering, Foot Crotch Crush, Front Bodyscissor, Front Facelock, Full Nelsons, Hairpulling, Hold by the Arms, Pins (Grapevine Pins, Jackknife Pin & Schoolgirl Pin), Punching Low Blow, Soccer Kicks, Spanking, Takedowns (Full Body Takedown & Side Headlock Takedown), Wedgies
(Shot in 4K)