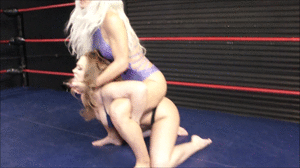 11:18 video
Carmen is excited about wrestling the hot new star Platinum Fury! Carmen offers to shake Fury's hand. But Fury refuses. She tells Carmen she isn't a wrestler she's a porn star and she won't associate with people like her.
Carmen
will say she's proud to be a porn star and she isn't ashamed of it. She will tell fury she is a frigid prude!
Carmen
will also add that she is also super tough and she can't wait to kick her ass! These 2 beautiful women then get it on the ring. Carmen is determined to prove to Fury that she is way more than just a porn star! Carmen wants to teach Fury some respect and shut her big mouth for good. Fury is determined not to lose to a porn star who she feels is below her. Which lady will get that all-important win? You don't want to miss this match.