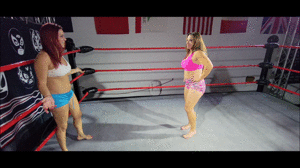 9:49 video
Jennifer Thomas and Sarah Brooke
Pro Wrestling Match
In this epic rivalry between Sarah and Jennifer, only one can come out victorious! As both of them make their way out to the squared circle, it becomes evident that neither of them will bow down and kiss the other's ass anytime soon. Sarah is looking to win over Jenn once and for all and make Jenn cry as much possible. As they seem to go for a lockup, Jenn kicks hard in the stomach and then grips Sarah's neck hard in a front guillotine headlock, squeezing and almost lifting Sarah off the mat with her immense power. Sarah has no choice but to give up and already less than 30 seconds in, Jenn has the first submission victory
When they go for a real first lockup, Sarah kicks Jenn hard in the calf, bringing her down and laughs as she puts Jenn in a camel clutch/armbar modified submission. She screams at Jenn to tap or feel more pain, and though Jenn tries to fight it as best as she can, she feels her arm being pulled out of her socket and taps out to save herself from more injury.
Tied at one submission a piece, they lockup again and Sarah immediately tries to go for a full nelson from behind, taking advantage of Jenn's weakened arm. Jennifer is able to reverse it by going behind Sarah and attempts to do a full nelson of her own. Sarah is fighting out of it as hard as she can, and Jenn switches it to an armbar, putting so much pressure on Sarah's arm that it brings Sarah down to her stomach onto the mat. Jenn wants Sarah to tap in the worst way as she bends Sarah's arm all the way back and even lets go to drop a knee onto Sarah's arm to inflict more damage. Sarah still refuses to tap and Jenn is done playing games at this point. She picks up Sarah by the hair and wraps her arms around Sarah's back tight in one of her trademark bearhugs that make a majority of her opponents tap out. Sarah is screaming and trying her best to hand in there, but Jennifer's arms and power are just way too much and Sarah finally gives up.
The score is now 2-1 and Sarah says she's pretty sure that she's ahead of Jenn still. Jenn laughs and says that Sarah needs to learn how to count. Sarah is still recovering from the massive bearhug but she's not giving up anytime soon and as they lockup again, Sarah headbutts Jennifer hard and sends her crashing to the mat. As Jennifer is trying to get back on her feet, Sarah wraps her legs around Jennifer's neck and squeezes Jennifer's neck as hard as she can in a standing headscissors, threatening to squeeze with every number she counts to. Jennifer can't catch a breath while Sarah is squeezing tighter and taps out almost immediately to Sarah's standing headscissors upon the quick strong pressure.
Now that both ladies are tied at two wins a piece, they can smell victory coming quickly. Another lockup, and this time Jennifer traps Sarah in an abdominal stretch. She digs her nails hard into Sarah's stomach and taunts Sarah as she applies more pressure. Sarah is screaming at the top of her lungs from the pain of being stretched and clawed and taps out, giving Jennifer the lead. Jennifer is getting more dominant as she doesn't give Sarah a chance to recover after the abdominal stretch submission, and does a butt bomb to Sarah's back that sends Sarah back down to the mat face-first. Jennifer then puts Sarah into a camel clutch, pulling Sarah's neck all the way back and bending her backwards to the point where it seems she's about to be broken in half. She tells Sarah to tap before something bad happens, and Sarah immediately slaps Jennifer's thighs to tap out, putting Jenn at a 2-submission lead.
Sarah knows she way behind and needs to come up with a way to get back ahead over Jennifer after losing two submissions in a row. When Jennifer reaches down to pick her up by the hair again, Sarah low blows Jennifer instead, then kicks Jennifer in the back and immediately puts Jenn in a Boston Crab. Jenn will not give up that easily and reaches back to try to grab at Sarah any which way she can. Sarah does a butt bomb to Jennifer's back that delivers more pain and Jennifer has no choice but to give up, knowing full well she can't stretch her back out that well.
They square off again and Jennifer is holding her back, the signs of her back getting damaged is becoming more apparent as Sarah aggressively pounces on Jennifer. Stretching Jennifer in a surfboard stretch, she screams in delight as she hears Jennifer scream in agony and Jennifer taps out again, her back being a huge target for punishment at this point and it looks like Sarah is now enjoying this way too much. Sarah then puts Jennifer into a bodyscissors while pulling Jennifer's hair and squeezing as hard as she can around Jennifer's waist. Jennifer can barely catch a breath as she tries to pry Sarah's legs apart and taps out again!
Sarah is way ahead at this point, but she allows Jennifer to stand back up and the way Jennifer is holding her back, there's evidently a lot of punishment being done to it by Sarah thus far. Sarah puts Jennifer into a bearhug of her own and squeezes Jennifer as hard as she can while whipping Jennifer back and forth to gain more leverage. Jennifer taps immediately and Sarah declares herself the winner. Jennifer doesn't want to give up just yet though and wants to go one more time. Sarah happily agrees, seeing how much pain Jennifer is in, and they lockup one last time. Sarah puts Jennifer into a front face guillotine headlock and wrenches Jennifer's neck and body sideways to the point where Jennifer is in agony and Jennifer has no choice but to give up one last time. Sarah pushes Jennifer to the mat and does a victory pose, placing a foot on Jennifer's defeated body and flexes for the winning shot.