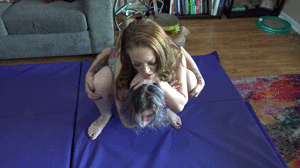 11:33 video
Carmen Versus Mia Hope
Mat wrestling
2 out of 3 falls- 10 count falls
Carmen Valentina and Mia Hope are set to wrestle in the center of the mats in a best 2-out-of-3 wrestling match to decide who the better mat wrestler is! They begin by locking up in a test of strength bearhug, standing up on the mat. After a few seconds of struggling, Mia gets Carmen in a bodyscissors while leaning on couch for added leverage. Carmen uses her size and strength to break herself out, and reverses Mia around to put Mia in a devastating camel clutch! As Mia tries to break out, she gets rolled into a strong bodyscissors by Carmen.
Ever the strong and defiant mat wrestler, Mia pushes out of the bodyscissors, and pushes Carmen backwards into a tight sleeperhold. She latches it on nice and deep, not allowing Carmen to get any kind of wriggle or breathing room at all. Suddenly, Carmen elbows Mia to get out of it, and reverses it to gets Mia in a reverse leg grapevine, pressing all her weight down on Mia and tying up Mia's legs and hips, then rolls it into a bodyscissors full nelson, tapping Mia nice and tight! Mia looks a to escape after lots of struggling and finally does, trapping Carmen down for a leg grapevine pin as she counts down Carmen for a 10 count!!
With Mia ahead one fall already, they both meet up in the center of the mat. Carmen wants to get back that first pinfall, and quickly puts Mia in a headlock, then brings her down into a side headscissors/armbar! Carmen then switches it to a solo side headscissors to get Mia breathing hard for oxygen that isn't coming anytime soon! Somehow, Mia gets out of it and then pins Carmen down with a leg grapevine! Carmen rolls out to reverse it into a leg grapevine/breast smother of her own! Mia is having a hard time trying to breathe or muffle anything out as her face is covered completely by Carmen's deep cleavage! Carmen pulls Mia in to the middle of the mat for a reverse facesit 10 count, and the score is tied 1-1!
With both strong and gorgeous ladies tied at one pinfall a piece, the stakes are raised even higher! They stand up and lockup one last time to start the tie breaker. Without hesitation, Carmen traps Mia in a tight bearhug, cranking it hard against Mia and lifting Mia up in the air with such force! Just when Mia looks like she's about to give in, she pushes out of it and sends Carmen flying backwards. Mia grabs Carmen and puts her in a tight rnc, showing how much strength she still has in her tired, tattooed body!
Carmen is eventually able to elbow out of it and traps Mia in a bodyscissors yet again, determined more than ever to seal this victory quickly! Mia digs deep after lots of intense groaning and struggling from Carmen's bodyscissors and reverses it into a bodyscissors of her own around Carmen's damaged stomach! Having Carmen pinned down, Mia mounts Carmen in a schoolgirl facesit pin and laughs as she pins down Carmen in a victorious 10 count, with another count to 11 for good measure. Carmen is indeed exhausted and out of it as Mia plants her foot down on Carmen's beaten body and flexes with a smile!