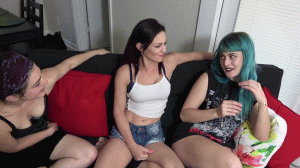 13:46 video
(APARTMENT FOOT FETISH; TOPLESS)
Three sexy ladies fresh off a night on the town spawns an extremely sexy scene, as WMW newcomer Aralia, teams up with the veteran Andi, to give Sarah Brooke the time of her life in "Sarah Brooke's Horny Foot Worship Fun", worshipping her feet at the redhead's special request in an INCREDIBLY erotic way that turns on everyone in the room, including Michael behind the camera! Sarah in particular gets SO into it, stripping down topless and playing with herself for almost the entire time! You aren't likely to find a hotter foot fetish video than this one, trust us on that!
As stated, a night on the town sets the stage for all of this hotness, with the women not finding much luck picking up guys while out. Some lamenting of this fact, is followed by flirting in Sarah's direction from Aralia and Andi, the two unable to help themselves as Sarah is dressed in a sexy white tank top/blue bra combo that shows off much of her belly, and very short jean shorts.
Their admiration of her and her appearance, leads to Sarah first removing her top, and then opening up to them about liking her feet worshipped and asking them if they'd be willing to feed into her kink for her, as she is VERY horny! Andi and Aralia are a little hesitant at first, but some pleading and prodding from Sarahgets them to acquiesce, and agree to do it.
And once it starts, everyone is REALLY glad they did, Sarah most of all! Moans escape from her lips IMMEDIATELY after they begin, and she removes her bra shortly after that so she rub her hands over her bare tits! She is in absolute HEAVEN as Aralia and Andi go to work her on her feet, taking her toes in their mouths and licking the up and down her soles! The hesitations they had beforehand completely melt away as they go on, totally locked into giving Sarah the worship she craved so badly, leaving shiny wet spots all over her feet in the process!
And the longer they go, the hotter Sarah gets! By the time Andi and Aralia are through with her, she is quite sweaty from all her play and has had at least one orgasm if not more! Things are so hot, that even Michael can't hold back his arousal, his own breathing and whispering audibly heard while filming as Sarahgets more and more turned on! From a VERY satisfied Sarah, to newfound foot lovers Andi and Aralia, all the way down to our humble cameraman Michael, this is a video that no one who was on set that day will EVER forget! And nor will you when you watch it!
You really really don't want to miss this one! Even if foot worship isn't your thing specifically, it's well worth seeing for Sarah's reactions alone! That is just as hot as what Aralia and Andi do, and it takes this video to a whole other level! We've done many sexy videos for you, and no doubt will do plenty more, but this one may be hard to top for a while! This is high into the stratosphere kind of hot here! You gotta check it out!
(Shot in 4K)