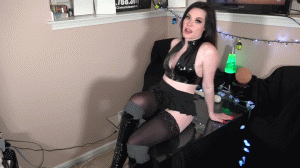 20:26 video
Apartment Solo, POV, JOI, Masturbation, Stripping (Nude), Leather, Skirts)
Jasmin Jai invites you to get up close and personal with her in this special custom JOI and masturbation video "Magic Wand Masturbation"! Watch as she teases your cock dressed in all black, wearing a leather top, short skirt and sexy thigh high boots and stockings, and then starts to slowly strip out of the outfit! She makes you practically beg to see more of her, unzipping top to expose a little cleavage and turning around to show off her ass while inviting you to spank it! She wants you to be as hard as you can be for her!
Once she has you as hot as she wants you, she allows you to see more, removing her top fully to reveal her tits with very hard aroused nipples and taking off her skirt and panties to show off her wet pussy soon after! And now that she's out of that outfit of hers, it's time to play with herself of course, and with the benefit of her magic wand she does just that! After a bit of teasing with her fingers to warm herself up, you get to see her work that pussy up to a fever pitch with it, all while she encourages you to masturbate right along with her! This all builds to an explosive crescendo in which you are instructed to cum as she does, leaving the two of you no doubt extremely satisfied!
Very sexy video! The only thing that will disappoint you is that it had to end! You'll be left wanting to play with Jasmin again! And who knows, one day you just might! We know she certainly won't be opposed to it!
(Shot in 4K)