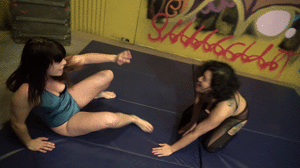 5:51 video
Kim Chi vs. Andi
Spanking Match Challenge!
(Apartment Women's Singles Wrestling, Spanking Match, Multi-Fall, Scissors, Asian)
Excited to have what she sees as "a new ass to spank", Andi challenges the Asian Kim Chi to an apartment spanking match, in "Spanking Match Challenge"! Kim Chi doesn't think Andi can handle what she is capable of, but Andi is fearless and win or lose wants to at least try!
The two ladies battle to and fro over several "falls" as it were, breaking apart sporadically and then reengaging, before a winner is determined. It's an interesting study this match, in that Andi uses more brute force to keep Kim Chi within spanking distance (often just resorting to holding her down one way or another outright), while Kim Chi relies heavily on the bodyscissor to hold Andi in place. Which method wins out in the end? Is Andi able to hold her own against Kim Chi like she hoped to?
A fun matchup that offers a unique clash of styles not really seen in many of our other spanking matches!
Attacks:
Mat Takedown, Scissors (Front Bodyscissor & Side Bodyscissors), Spanking
(Shot in 4K)