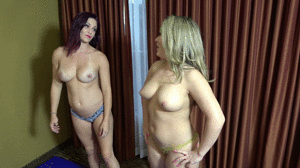 7:46 video
(Apartment Lesbian Play, Lift & Carry, Topless, Ass Fetish, Spanking, Twerking, Redheads, Strong Women)
An apartment topless Lift & Carry contest between Sarah Brooke and Carmen Valentina turns steamy in a hurry in "Sarah & Carmen's Hot Lift & Carry Fun", as the two quickly abandon any competitiveness with each other in favor of something more strictly erotic!
Any Lift & Carry action only serves as an arousal tool for them here as they sensually kiss, grab each other's pussies, play with each other's tits and even dabble in a little ass play by way of Sarah mounting Carmen's back and spanking her while they both twerk! It's all about turning one another on in whatever ways they can think of in this hot and sexy video!
Absolutely sizzling stuff from Sarah and Carmen! The sexual chemistry is off the charts between them as they tease and play with each other's bodies, getting hotter and hotter for each other as the video progresses! And that's not even factoring in the Lift & Carry portion of this, nor the Ass Play, which you could consider as added bonuses! You may need a cold shower in a few different ways after watching these two together in this one!
Lifts/Carries Featured:
Backpack, Front, Leg, Over the Shoulder
(Shot in 4K)