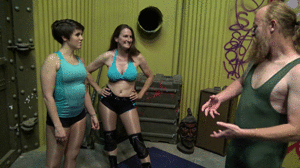 10:12 video
(Apartment Mixed Wrestling; 2 on 1 Handicap Match; Female Domination; KO Ending)
Jerry acts like a total chauvinist pig towards Lela Beryl and Sin D, and he pays dearly for it in "Teaching the Chauvinist a Lesson", in an apartment mixed handicap beatdown that finishes with him knocked out by them both!
Attacking the self-proclaimed superior male who believes ladies like Lela and Sin D should put the belts away and go make him a sandwich leaving the wrestling to the men, in all sorts of ways that range from painful, to brutal to simply flat out humiliating and degrading leading up to the KO finish, Lela and Sin D do their best to shut Jerry up and put him in his place! There's no room for chauvinism like Jerry believes in at WMW! Hopefully he'll have gotten the memo after this!
An awesome mixed domination that incorporates several different tactics and holds with a satisfying KO ending! There's no shortage of variety to be seen in this video!
Attacks:
Armbar, Belly Punching, Body Stomping, Double Arm & Shoulder Stretch, Foot Smothers, Forearms, Front Facelock, Hand Smother, Kicking (Bicycle Kicks, Shoot Kick & Sole Kick), Knee in the Back, Low Blows (Kicking Low Blow & Stomping Low Blow), Pit Stop, Reverse Chinlock, Scissors (Front Headscissor & Side Bodyscissors), Sleeper Hold, Spanking
(Shot in 4K)