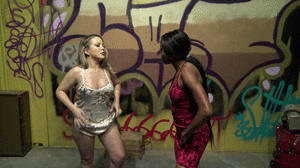 7:23 video
(Nude Apartment Catfight, Interracial)
Carmen Valentina and new to WMW ebony babe Melody Cummings are both 100 percent convinced that they are the best porn star of the two of them, and as such deserve the award proclaiming that at this year's FetCon Awards. This obviously presents a problem in "I'm The Best Porn Star Bitch", that can only be solved in one way, that of course being through a rip-roaring interracial apartment catfight!
The two prideful women begin in dresses that were specially chosen for the awards show later this same night, but naturally neither wants to ruin them, so they strip down to thongs. Soon those are gone too however and their fight ends with both completely nude!
And it's a definite wild one, as each tries frantically to take out their competition! Only one of them can make it to the FetCon Awards and receive their award should they win it, so neither Carmen nor Melody wants to be on the losing end of this brawl! Who ends up the winner here and who is made to stay off the awards show floor?
As bitchy a catfight as you'll see! With the recognition and prestige of being named the best porn star of the year at stake, these two ladies pull out all the stops in their bid to keep the other from getting it!
Attacks:
Breast Grabbing,Full Body Takedowns, Hairpulling, Knees to Body, Mat Face Slams, Mat Head Slams, Spanking, Thong Choke, Waistlock Takedown
(Shot at FetCon 2019)
(Shot in 4K)