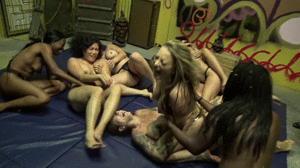 10:15 video
Apartment Topless Team Tickle Fight w/Twerking Celebration, Interracial, Asian)
WMW's popular Tickle Madness series returns for its' third installment in "Tickle Madness 3", as Sarah Brooke leads a team featuring herself, Kim Chi, Carmen Valentina and Melody Cummings, against Bella Ink's team of herself, Gia Love, Sorceress Morgan and Lana Luxor in apartment topless tickle warfare! And like Tickle Madness 1 and 2, 3 is wild as all get out, with action everywhere the eye can see!
The fight rages and rages unabated, before one team claims a submission victory over the other albeit disputed! They then celebrate with a group twerking session as their defeated opponents look on! Which team ends up with the glory and which team goes home losers?
Another furiously fought tickle battle like you've come to expect from this series, with a little bonus twerking session at the end!
(Shot at FetCon 2019)