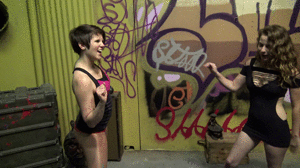 11:03 video
Lela Beryl vs. Luna
An Unwise Kiss My Ass Challenge!
(Women's Singles Apartment Wrestling. Kiss My Ass Match, Female Domination, Lesbian Domination)
Lela Beryl makes a challenge that she sorely ends up regretting in "An Unwise Kiss My Ass Challenge", as after daring the young Luna to a Kiss My Ass Match after seeing Sarah Brooke decimate her in "Sarah's Kiss My Ass Challenge", she finds to her chagrin that Luna is much tougher than that match made her seem, and finds herself on the losing end of it in humiliatingly lopsided fashion and puckering up when all is said and done!
Lela is SO confident she can beat Luna before this match begins, even agreeing to kissing each of Luna's cheeks 10 times if she lost not expecting it to ever happen! However before she knows what has happened, Luna blindsides her with a couple hard belly punches, flooring her and that sets the tone for the destruction that follows!
Lela is left pretty much speechless by the assault she suffers at Luna's hands, which is really saying something for a woman whose confidence level is normally super high! She desperately attempts to get herself into the fight after a little while, but her comeback bid is feeble at best and she's soon being thoroughly controlled once again!
Finally made to give up the fight after a bit more of this punishment, Lela is made to do the ass kissing she never imagined she'd have to do! This is one instance that Lela's mouth wrote a check her body couldn't cash!
It's a rare sight to see Lela get woman-handled so thoroughly, let alone by a still basically rookie to WMW, but Luna manages to do just that to her here, dominating her from moment one to the end! You really can't miss this one!
Attacks:
Bearhug, Belly Punching, Rear Naked Choke, Reverse Facesitting, Schoolgirl Pins (Front Schoolgirl Pins & Reverse Schoolgirl Pin), Scissors (Front Headscissors, Reverse Headscissor, Reverse Standing Headscissors & Side Bodyscissor), Spanking, Stomping Cuntbusts, Wedgies
(Shot in 4K)